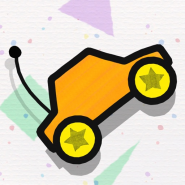 Download
JellyCar is a physics-based puzzle-platformer video game developed by Walaber. In the game, players control a small car made of jelly and navigate through various levels while avoiding obstacles and collecting items. The objective is to reach the finish line as quickly as possible.
JellyCar features a simple, colorful art style and has a variety of levels with different themes, such as city, beach, and space. The game also includes a level editor, which allows players to create and share their own custom levels.
Download JellyCar Worlds IPA for iOS
Work?
Thank you, your vote is accepted