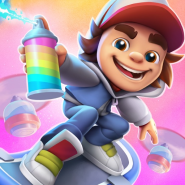 Download
Subway Surfers Tag will offer players a slightly different gameplay concept. Instead of the standard race in a straight line with running around obstacles, there will be arenas where you will need to perform tricks and score points necessary to open new locations. And since the heroes of the game still like to climb into closed places, then there is no avoiding a meeting with a security guard. Moreover, in Subway Surfers Tag, he will use special devices to catch violators more effectively.
Download Subway Surfers Tag IPA for iOS
Work?
Thank you, your vote is accepted
Work?
Thank you, your vote is accepted