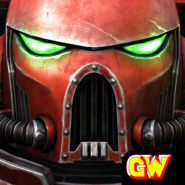 Warhammer 40000: Regicide IPA
Download
Warhammer 40000: Regicide – turn-based strategy in the eternal universe of Warhammer. Before you will be a field similar to the chessboard and various figures of fighters on it. You need to think through your tactics and strategy in order to always be one step ahead of your opponent. 5 levels of difficulty will help you determine your own strength.
The game has two game modes:
Regicide Mode: Learn, practice and practice your skills in fights and fight as you like best .
Classic Mode: The game will follow the traditional chess rules. You can play in single or multiplayer mode.
Download Warhammer 40000: Regicide IPA for iOS
Work?
Thank you, your vote is accepted