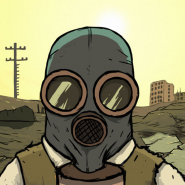 60 Seconds! Atomic Adventure
Download
60 Seconds! Atomic Adventure is a survival game in which you play as a character named Ted, who must gather supplies and family members within 60 seconds before a nuclear bomb detonates and destroys the city. After the initial rush to gather supplies and loved ones, the game shifts to a turn-based strategy format where you must manage your limited resources and make difficult choices in order to survive the aftermath of the nuclear explosion.
In the game, you must scavenge for supplies, such as food, water, and medicine, and use them to keep your family alive for as long as possible. You'll also need to explore your surroundings and make decisions about where to go and what to do in order to increase your chances of survival. Along the way, you'll encounter various challenges and events that will test your resourcefulness and decision-making skills.
Overall, 60 Seconds! Atomic Adventure is a challenging and immersive survival game that requires quick thinking and strategic planning in order to survive the dangers of a post-apocalyptic world.
Download 60 Seconds! Atomic Adventure IPA for iOS
Work?
Thank you, your vote is accepted
Work?
Thank you, your vote is accepted