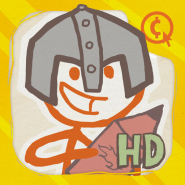 Download
Draw a Stickman: EPIC HD – Conduct your hero through various worlds helping him to cope with all obstacles and dangers. In this game, you will independently draw your hero, making his appearance unique, and lead him through the dangerous world. Take a pencil in hand and help the hero in difficult situations move further, drawing him the necessary tools and weapons. This is a logical game where you have to seriously shatter your head in order to pass this or that situation. On your way there will be a tree, boldly draw an ax and cut down a tree, on the horizon an enemy appears or a huge beast will explode it using dynamite, solve problems and travel further. The game will please you with an unusual drawing world with the ability to fantasize and conduct experiments.
Compatibility: iPad.
Download Draw a Stickman: EPIC HD IPA for iOS
Work?
Thank you, your vote is accepted