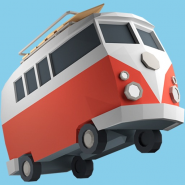 Download
Poly Bridge 2 – Previously, this game was a real test for many people, but now a lot has changed and now you can try your hand again. Move across different locations and think about exactly how you need to build a bridge so that certain vehicles can successfully pass on it and get across to the other side. The catch is that you need to design a bridge with precise bracing that can handle the load, the weight of the machines. Set yourself incredible tasks and solve them yourself, everything is in your hands!
Download Poly Bridge 2 IPA for iOS
Work?
Thank you, your vote is accepted
Work?
Thank you, your vote is accepted