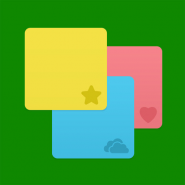 Download
Creating notes can greatly simplify the life of the scattered user. Especially if you create notes easily, and they are literally in front of your eyes.
abc Notes copes with its responsibilities to create notes and a list of cases. It's easy and pleasant to work with the program, because the comprehensible interface complements the excellent functionality (several desktops, simple file management) and nice design (the ability to change the shape, the color of the sticker, select the background and take notes directly to the desktop in the form of a background)
Compatibility: iPhone, iPad, iPod touch. For those who are accustomed to working with multiple devices, a nice addition will be the ability to synchronize notes via iCloud.
Compatibility: iPhone, iPad, iPod touch.
Download abc Notes IPA for iOS
Work?
Thank you, your vote is accepted