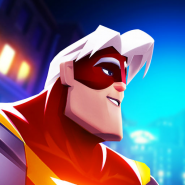 Download
BattleHand Heroes – The name of this game speaks for itself, because you really have to become a real leader of the heroic team. Collect under your head the best heroes of Silver City and fight back evil. Each character in this city has its own personality and certain traits of both character and abilities, combine different characters sending them to complex tasks, and consider all their abilities. Only having reached the maximum balance, you will be able to create an invincible team!
Features:
A grand strategic adventure role-playing game, which you can download for free.
Collect a team of legendary superheroes to save Silver City!
Discover incredible improvements in the skill tree of each hero.
A variety of combat modes including a full campaign and PvP trials.
Collect powerful maps, improve them and conduct their evolution on the way to creating an ideal super team.
BattleHand Heroes still not out or the file has not yet been uploaded to our server. Visit this page later.