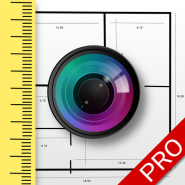 Download
With CamToPlan, you can create a terrain or object plan in a few seconds.
Features:
Exporting files in PDF, PNG and DXF formats
Measurement tape operation in 3D image
Automatic instant calculation of area in square meters or in square feet
Drawing of a room plan with precise dimensions and the ability to send it with a single click e-mail, instant messenger or social network
Any action is very simple, just like managing a function applications.
CamToPlan PRO still not out or the file has not yet been uploaded to our server. Visit this page later.