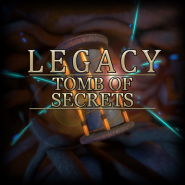 Legacy 4 – Tomb of Secrets
Download
Legacy 4 – Tomb of Secrets is a thrilling puzzle-adventure game for iPhone that takes you on a journey through ancient ruins and forgotten tombs in search of hidden treasures and long-lost secrets. With stunning visuals and challenging puzzles, you must use your wits and problem-solving skills to uncover clues, solve mysteries, and unlock the secrets of the tomb. As you progress through the game, you'll encounter deadly traps, fearsome creatures, and ancient artifacts that will test your courage and ingenuity. Can you unravel the mysteries of the tomb and emerge victorious? Play Legacy 4 – Tomb of Secrets and find out!
Download Legacy 4 – Tomb of Secrets IPA for iOS
Work?
Thank you, your vote is accepted
Work?
Thank you, your vote is accepted